What is Qigong and Why is it Essential?
Its dynamic exercises and meditations have Yin and Yang aspects: The Yin is being it; the Yang is doing it. Yin qigong exercises are expressed through relaxed stretching, visualization, and breathing.
Yang qigong exercises are expressed in a more aerobic or dynamic way. They are particularly effective for supporting the immune system. In China, Qigong is used extensively for people with cancer.
Qigong's physical and spiritual routines move Qi energy through the Twelve Primary Channels and Eight Extra Channels, balancing it, smoothing the flow, and strengthening it. Chinese medicine uses Qigong exercises to maintain health, prevent illness, and extend longevity because it is a powerful tool for maintaining and restoring harmony to the Organ Systems, Essential Substances, and Channels. Qigong is also used for non-medical purposes, such as for fighting and for pursuing enlightenment.
Anyone of any age or physical condition can do Qigong. You don't have to be able to run a marathon or bench press a car to pursue healthfulness and enjoy the benefits.
When you design your qigong exercise / meditation practice, you will pick what suits your individual constitution. Some of us are born with one type of constitution; some with another. We each have inherited imbalances that we cannot control but with which we must work. That's why for some people it is easier to achieve balance and strength than it is for others. But whatever your nature, Qigong can help you become the most balanced you can be.
Qigong is truly a system for a lifetime. That's why so many people over age sixty in China practice Qigong and Tai Chi. The effects may be powerful, but the routines themselves are usually gentle. Even the dynamic exercises—some of which explode the Qi energy— use forcefulness in different ways than in the West. The following are some effects of Qigong exercises practiced regularly.
The Benefits of Regular Practice
Maintaining Health
Qigong exercises help maintain health by creating a state of mental and physical calmness, which indicates that the Qi energy is balanced and harmonious. This allows the mind/body/spirit to function most efficiently, with the least amount of stress.
When you start practicing Qigong exercises, the primary goal is to concentrate on letting go, letting go, letting go. That's because most imbalance comes from holding on to too much for too long. Most of us are familiar with physical strength of muscles, and when we think about exercising, we think in terms of tensing muscles. Qi energy is different. Qi strength is revealed by a smooth, calm, concentrated effort that is free of stress and does not pit one part of the body against another.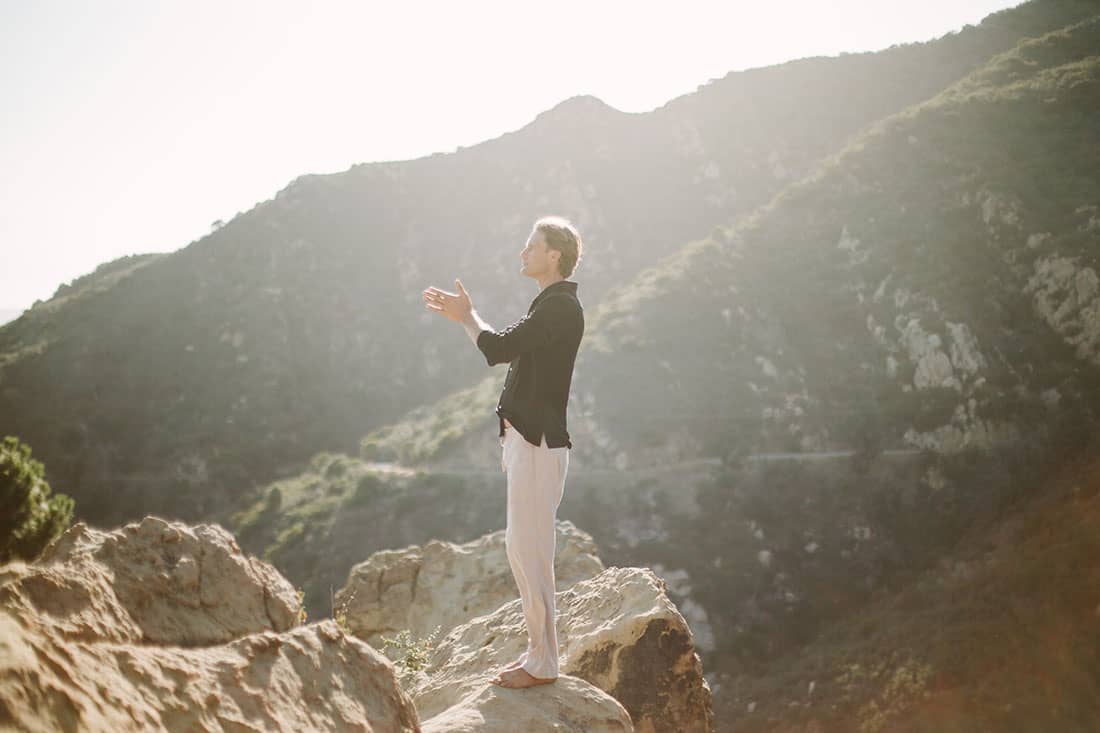 qigong exercises are often used to develop and strengthen the energy body in preparation for higher states and stages of consciousness. photo: lerina winter
Managing Illness
It's harder to remedy an illness than to prevent it, and Qigong has powerful preventive effects. However, when disharmony becomes apparent, Qigong exercises also can play a crucial role in restoring harmony.
Qigong movement and postures are shaped by the principle of Yin/Yang: the complementary interrelationship of qualities such as fast and slow, hard and soft, Excess or Deficiency, and External and Internal. Qigong exercises use these contrasting and complementary qualities to restore harmony to the Essential Substances, Organ Systems, and Channels.

In China, the use of Qigong exercises for maintaining health and curing illness did not satisfy those Buddhists and Daoists who engaged in more rigorous self-discipline. They wanted to be able to amplify the power of Qi energy and make the internal Organ Systems even stronger. This arcane use of Qigong was confined mostly to monasteries and the techniques have not been much publicized. One of the most difficult and profoundly effective techniques is called Marrow Washing Qigong. Practitioners learn to master the intricate manipulation of Qi—infusing the Eight Extraordinary Channels with Qi, and then guiding the Qi energy through the Channels to the bone marrow to cleanse and energize it. The result, according to religious tradition, is that monks can extend their life span to 150 years or more. The Daoists have a saying, "One hundred and twenty years means dying young."
Although few if any of us can devote our lives to the stern practices of the monks, the health benefits of Qigong exercises certainly do improve the quality of life of everyone who practices it.